Shocker Impact Cushioned Hitch Ball Mounts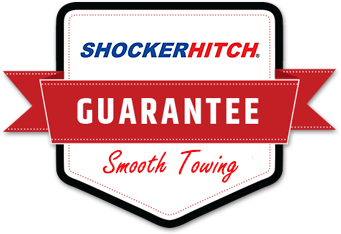 Cushioned Towing for your Vehicle
Smoother Safer Towing – We Guarantee It! The 12,000 lb rated Shocker Impact ball mount features a dual bump cushion for a smoother trailer tow experience. Tow better with Shocker Impact Cushion Hitch. This is great for contractors towing a variety of trailers with a pickup as well as the perfect solution for minivan, Jeeps, CUV, SUV and cars wanting reduce the road shock and bumps felt when towing down concrete highways and dirt roads.
Shocker Impact Cushioned Ball Mounts
The dual bump cushion ball mount design helps to reduce the jerks felt when towing on rough roads or concrete highways. This hitch directs the tow resistance through the polyurethane bump cushions, producing a smoother ride
Available for 2″ or 2-1/2″ Receiver Hitches
Protects your truck, trailer and their contents with a smoother, safer tow with Shocker impact cushion technology
Choose from adjustable combo multi-ball mount, drop mounts, raised mounts, pintle hooks, draw bar and cushioned drawbar attachments.
12,000 lbs towing capacity & 1,200 lbs tongue weight
Improves your ride, reduces wear & tear on pickup, trailer & contents
Great for towing contactor, boat, car, fish house, cargo, utility, skid steer and flat bed trailers.
Shocker Impact Videos
Shocker Impact Ball Mount Options
Shocker Impact Installation
Set up is simple and easy. The Shocker Impact dual cushioned ball mount is easy to install. It comes complete with easy to understand instructions along with everything you need. Just insert into your receiver hitch and adjust pins to proper ball mount height.
Shocker Impact Cushioned Ball Mount Features
Cushioned Design: The dynamic dual cushion design features two strategically placed polyurethane bump cushions, which ultimately cushion and absorb the road shock you would experience with a solid type ball mount.
Built Tough: 12,000 lbs towing capacity and 1,200 lbs tongue weight. Whether you are towing a small boat trailer or a loaded up skid steer trailer, the Shocker Impact is rated to 12K.
Driving Comfort: With a cushioned ride! Travel a lot on concrete highways? No more jarring every time you cross a section divider. This shocker impact hitch absorbs and cushions the thumps and bumps.
Simple Pivot Design: uses a rocker arm pivot design which produces a down and back motion, much different than other cushion hitches on the market that try to cushion the ball mount pin area. Our dual cushion design truly cushions the towing experience.
Improves Safety: By giving you improved control of your trailer towing vehicle and trailer.
Shock Cushion Action: Shocker impact cushion hitch absorbs some of the the jerking, tugging and damaging forces experienced with a typical hard connection when towing trailers. There is no reason to beat yourself or your equipment up with a hard solid ball mount connection between your trailer and your receiver hitch.
Air Ride Towing Options