The Shocker Hitch Air Equalizer is really easy to install. Just bolt your existing equalizer / weight distribution head to the air equalizer and then insert into your pickup receiver. Important, when installing, make sure there is no air in the airbag. Take out the valve core so the air is totally removed. Then hook up your load bars / weight distribution bars, attach to tow vehicle, then air up air equalizer airbag until forward washers free up (washers closest to the truck).
Download Installation Guide: Shocker Air Equalizer for Weight Distribution Hitches Installation Instructions
How to Install Air Equalizer Hitch Video
Step 1: Attach air equalizer and XR base mount to your pickup truck.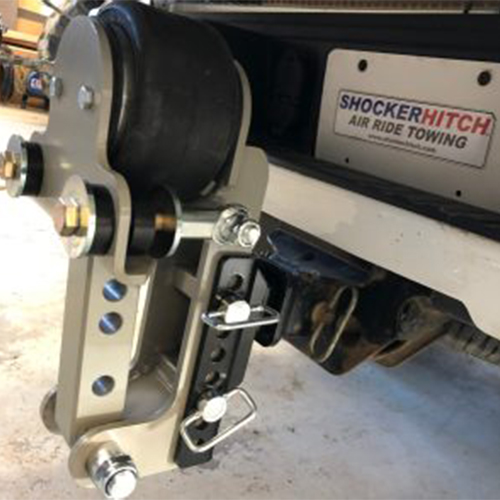 Step 2: Bolt your existing weight-distribution head to the air equalizer
Step 3: Hook up your weight distribution as you did prior to installing air equalizer.