Shocker Gooseneck Surge Air Hitch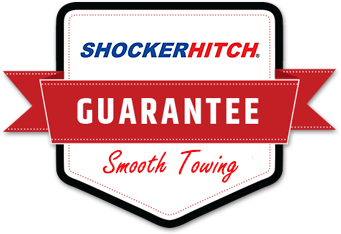 RV / Camper Cushion Hitch for your 5th Wheel Trailer
Smoother Safer Towing – We Guarantee It! The 5th wheel hitch is a "wafer design" that simply fits between the camper kingpin box and the 5th wheel plate on the truck, It works in a forward and back motion, often times this is the jerk you feel when towing 5th wheel trailers.
Shocker Cushion 5th Wheel Hitch
Helps to eliminate the jerks felt when towing on rough roads or concrete highways. This hitch uses a multi stage cushion process, producing a smooth ride.
Fast & Easy installation.
18,000 lbs towing capacity.
Fits most pinbox style campers.
Ships UPS Ground.
Shocker 5th Wheel Hitch Video
Shocker 5th Wheel Cushion Hitch Installation
See the complete 5th Wheel Set Up Instructions
5th Wheel Cushion Hitch Features
Cushion Style Hitch: Shocker 5th wheel hitch is a cushion design for a smoother 5th wheel towing experience.
Improves Safety: By giving you improved control of your tow vehicle and trailer. The hitch system for a 5th wheel trailer allows for better control of your pickup and the trailer it is towing.
Saves Money: This cushion hitch absorbs the damaging forces experienced with a typical hard connection. This greatly reduces the chances of breaking welds and doing other long term damage to your equipment as well as the valuable cargo you have inside the truck and trailer.
Adds Life To Your 5th Wheel Trailer: By reducing wear and tear on driveline and frame! Treat yourself, your equipment, and your passengers to a much smoother ride. You'll never go back to the 'old days' of continual bumps, jerks, and vibrations.
5th Wheel Testimonials
After a 600 mile round trip pulling my 28.5 Jayflight 5th wheel trailer, I can tell you that I would not be without this product. No more drawers jiggling open, no more things falling off of shelves. The ride in my truck is better pulling the trailer than it is with the truck empty. In terms of wear and tear on both the trailer and truck, this is a must have product. Thank you for having this product in inventory and making it available to me. It is not possible to get better service than provided by Shocker Hitch and Bob Sagen. I have no financial or personal relationship with Shocker Hitch or Bob Sagen. This is simply a dandy product.
Jerry O'Connor
New London, MN
More Shocker Hitch Products